The next top 20 MTT scores are here!




This week we would like to take a moment and say CONGRATZ! to Szp4Q for winning Uppercut tournament! Although Panpankracy cashed a bit more than our runner-up and ended up in the first place of our list we will not make an interview with him! We want to talk with the winners, Panpa win next tournament and I promise you, you will be next :)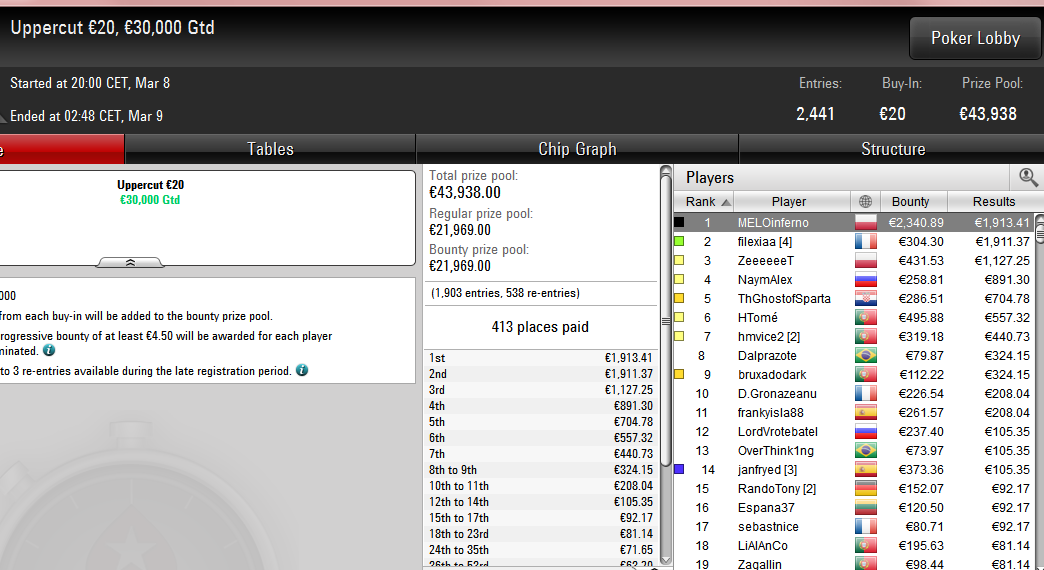 Without further ado let's jump to the interview!
Szp4Q, once again congratulations! What emotions you had when you entered the Final Table? When did you realize that this is your tournament?
I was super excited as this was the first deep run in a big tournament after I came back to MTT. So I wanted to win it.
At the Final Table, the stacks were even. When there were seven players left, I managed to win a massive pot with AJs versus AK, and since then, I could put the pressure on my opponents, and I felt that nothing would stop me from winning the tournament.
How long was the session? Do you have any proven way to keep your focus during the game?
The session wasn't very long. I started playing around 8 pm, and the tournament ended at 2:30 am.
I play each tournament with the feeling that I will win it, and this self-motivation is essential for me to keep the focus and patience during the game. During the breaks, I do some push-ups and pull-ups. Listening to my favorite electronic music playlist also helps.
You transferred to MTT from Spins. Do you think that the knowledge and experience you took from Spins are useful in MTT?
For sure, Spins helps you playing in late position and with wide ranges. I think that you can feel it in BTN vs. BB (and reversed) spots. Also, in Heads-Up, you can feel more comfortable as you know what you are doing :) But this is just a small part of MTT playstyle. MTTs are very complex, and there are a variety of different spots.
How different is the mindset when you play MTT in comparison to Spins?
I wouldn't say that there is any difference in mindset. I think that in every poker format, you need to keep the core mindset: discipline, professional approach, work ethic, creating coals - those things are similar. The difference is time management. For MTT sessions, you need to plan a longer part of your day while in Spins, you can take a break more often. For sure, in Spins, you need to be prepared for playing similar spots often with the same opponents, so you need to adjust fast. But still, it's the same game - poker.
Thanks for the interview! Good luck in future tournaments!